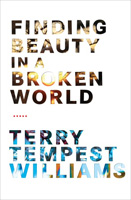 Finding Beauty in a Broken World
(2008)
Finding Beauty in a Broken World
Pantheon Books
2008
Format : Hardcover (Cloth) , pages 432
ISBN-10 : 0375420789
ISBN-13 : 9780375420788
Listen to Terry Tempest Williams read an excerpt from the book,
Twibuke: beauty and healing amid the shards of Rwanda
, on the Orion Society web site. (This excerpt was published in the September/October 2008 issue of Orion Magazine.)
Listen to an interview with Terry Tempest Williams with Mary-Charlotte, host of Santa Fe Radio Cafe, broadcast on Tuesday, October 7, 2008.
Listen online or download a podcast
.
Listen to a National Public Radio (NPR) piece by Caitlin Shetterly entitled
Author Pieces Together Natural Mosaic
that aired on Weekend Edition Saturday, November 22, 2008.
Chris Watson wrote an article entitled "A million pieces of light," published in the Santa Cruz Sentinel on December 7, 2008. Read it online
here
.
Listen to NPR: On Point, for an interview by Tom Ashbrook with Terry Tempest Williams, about "Finding Beauty in a Broken World", which aired on November 17, 2008. You can listen to it online
here
. (After you click on the link, click on
Listen to this Show
, near the top of the page.)
A Conversation between Terry Tempest Williams and Betsy Burton
, owner of The King's English Bookshop in Salt Lake City, Utah, about
Finding Beauty in a Broken World
.
ABOUT THIS BOOK
In her most original, provocative, and eloquently moving book since "Refuge," Terry Tempest Williams gives us a luminous chronicle of finding beauty in a broken world. Always an impassioned and far-sighted advocate for a just relationship between the natural world and humankind, Williams has broadened her concerns over the past several years to include a reconfiguration of family and community in her search for a deeper understanding of what it means to be human in an era of physical and spiritual fragmentation.

Williams begins in Ravenna, Italy, where "jeweled ceilings became lavish tales" through the art of mosaic. She discovers that mosaic is not just an art form but a form of integration, and when she returns to the American Southwest, her physical and spiritual home, and observes a clan of prairie dogs on the brink of extinction, she apprehends an ecological mosaic created by a remarkable species in the sagebrush steppes of the Colorado Plateau. And, finally, Williams travels to a small village in Rwanda, where, along with fellow artists, she joins survivors of the 1994 genocide and builds a memorial literally from the rubble of war, an act that becomes a spark for social change and healing.

A singular meditation on how the natural and human worlds both collide and connect in violence and beauty, this is a work of uncommon perceptions that dares to find intersections between arrogance and empathy, tumult and peace, constructing a narrative of hopeful acts by taking that which is broken and creating something whole.
Reviews
Williams (The Open Space of Democracy) travels to Ravenna, Italy, a town famous for its ancient mosaics, to "learn a new language with my hands." Back home in Utah, Williams views the lives of a clan of endangered prairie dogs—a species essential to the ecological mosaic of the grasslands and the creators of "the most sophisticated animal language decoded so far"—through the rules of Italian mosaics. After intimate study of a prairie dog town at Bryce Canyon, her visit to 19th-century prairie dog specimens at the American Museum of Natural History segues, dreamlike, to a glass case of bones from the genocide in Rwanda, where Williams, overwhelmed by the death of her brother but knowing that her "own spiritual evolution depended upon it," travels with artist Lily Yeh, who "understands mosaic as taking that which is broken and creating something whole," to build a memorial with genocide survivors. The book, itself a skillful, nuanced mosaic ("a conversation between what is broken... a conversation with light, with color, with form") uses this "way of thinking about the world" to convincingly "make the connection between racism and specism" and sensitively argues for respect for life in all its myriad forms. (Oct.)
--Publishers Weekly, 8/18/08

Beholding the mosaic of art and savagery--Terry Tempest Williams muses on people's disparate capacities, by William Porter, published in The Denver Post, October 3, 2008.

Finding Beauty in a Broken World, review by Susan Salter Reynolds, published in the Los Angeles Times, November 30, 2008.

Related Links
Associated links and references relevant to "FINDING BEAUTY"
Ravenna
Prairie Dogs
Prairie Dog Coalition

WildEarth Guardians

Center for Native Ecosystems which is now Rocky Mountain Wild

John Hoogland

Endangered Species Act
Rwanda
Barefoot Artists

The Rwanda Healing Project

Ex;it Foundation: The Open Book Project

Partners in Health
How you can help
WildEarth Guardians

Center for Native Ecosystems which is now Rocky Mountain Wild

Barefoot Artists

Ex;it Foundation (building libraries in Rwanda)