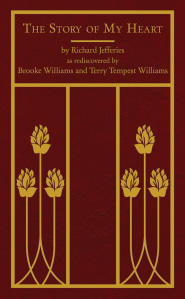 The Story of My Heart:
by Richard Jefferies
as rediscovered by Brooke Williams & Terry Tempest Williams
(2014)
Torrey House Press
ISBN: 978-1-937226-41-1
Trade Cloth: 234 pp
"The Williamses anchor Jefferies' profound inquiry to our churning world and illuminate their own passionate quests for truth and understanding."
—BOOKLIST, starred review
Originally published in 1883, The Story of My Heart explores the existence of a "soul-life" as British nature writer Richard Jefferies experienced while wandering in England. With an introduction by Terry and essays by Brooke alongside Jefferies' original work, these two beloved writers and environmentalists contemplate dilemmas of modernity, the intrinsic need for wildness, and what it means to be human in the 21st century. Scott Slovic, editor of ISLE: Interdisciplinary Studies in Literature and Environment, provides the afterword.
John Richard Jefferies (6 November 1848 – 14 August 1887) was a British novelist and essayist who helped pioneer the field of modern nature writing. Jefferies described the English countryside with an intimate vividness and expansive passion that inspired both his contemporaries and later writers.
Interview with Tom Williams on Access Utah Wednesday, Utah Public Radio, aired on November 19, 2014; and interview by Doug Fabrizio on RadioWest, KUER, aired on November 20, 2014. Read an article in the Salt Lake Tribune, entitled Victorian-era insights on nature live on as Utah writers launch new call to wildness, by Ellen Fagg Weist, published on November 21, 2014. And in the Utah Review, an article entitled Monumental, urgent lesson for today's environmental movement in rediscovering 'The Story of My Heart', by Les Roka, published on December 1, 2014.
Praise for The Story of My Heart

"[Terry and Brooke]'s quest to understand Jefferies' ideas of a 'soul-life' has brought the British writer's ideas alive…"
—THE SALT LAKE TRIBUNE

"…an oustanding new book…a first-rate tribute to an author who now has been rescued from obscurity." —THE UTAH REVIEW

"…a small volume that packs a punch." —THE DURANGO HERALD

"The couple converses with Jefferies in the book as if with a new friend…Jefferies' prescient call for solitude in nature has proven itself worth fresh consideration." —ALBUQUERQUE WEEKLY ALIBI

"What makes The Story of My Heart such an enjoyable find is the context that Terry and Brooke provide with their own commentary." —JACKSON HOLE NEWS & GUIDE

"Brooke and Terry give a sense of cohesion to Jefferies's writing, and leave readers with much to ponder about our own chaotic, fast–paced, work–obsessed world." —PUBLISHERS WEEKLY

"This perfect little package of a book reads like a hymnal, a philosophical treatise, a love story and a meandering walk up a grassy knoll. When Terry and Brooke happened upon a rare copy of Jefferies' memoir, it sparked in them an obsession with the little known 19th century British nature writer. What resulted is his original text set alongside their own musings and journeys, a balanced meditation on how one is to find a 'soul–life' in the natural world, as it ever changes and disappears." —Melinda Powers, Bookshop Santa Cruz