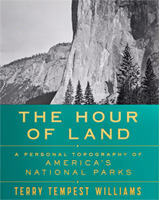 The Hour of Land:
A Personal Topography of America's National Parks
(2016)
Sarah Crichton Books/Farrar, Straus & Giroux
The Hour of Land web site
Trade paperback edition to be released by Picador July, 2017
.
Publisher:
Farrar, Straus and Giroux
(May 31, 2016)
Sarah Crichton Books
Hardcover: 416 pages
22 Black-and-White Illustrations, Printed Endpapers / Sources, List of National Parks
Language: English
ISBN: 9780374280093
ISBN10: 0374280096
Description
An ode to our national parks, timed for the centennial

For years, America's national parks have provided public breathing spaces in a world in which such spaces are steadily disappearing, which is why close to 300 million people visit the parks each year. Now, to honor the centennial of the National Park Service, Terry Tempest Williams, the author of the beloved memoir When Women Were Birds, returns with The Hour of Land, a literary celebration of our national parks, what they mean to us, and what we mean to them.

Through twelve carefully chosen parks, from Yellowstone in Wyoming to Acadia in Maine to Big Bend in Texas, Tempest Williams creates a series of lyrical portraits that illuminate the unique grandeur of each place while delving into what it means to shape a landscape with its own evolutionary history into something of our own making. Part memoir, part natural history, and part social critique, The Hour of Land is a meditation and manifesto on why wild lands matter to the soul of America. Our national parks stand at the intersection of humanity and wildness, and there's no one better than Tempest Williams to guide us there. Beautifully illustrated, with evocative black-and-white images by some of our finest photographers, from Lee Friedlander to Sally Mann to Sebastião Salgado, The Hour of Land will be a collector's item as well as a seminal work of environmental writing and criticism about some of America's most treasured landmarks.
Interviews
Terry Tempest Williams' "The Hour Of Land" on Wednesday's Access Utah, TTW interview with Tom Williams, published June 28, 2016.


Doug Fabrizio of RadioWest, KUER, NPR of Utah, interviews Terry Tempest Williams on The Hour of Land, June 1, 2016.


Reviews
The Time Has Come, This is "The Hour of Land", A new photography exhibition celebrates the beauty of our glorious national parks, by Miss Rosen, published in Crave Online, July 3, 2016.

Read more at http://www.craveonline.com/art/1004771-time-come-hour-land#3lzBKSEIpfIjAMqD.99 Meditations on conservation: An environmental activist urges a renewal of the American national park idea, by Jared Farmer, published in Science Magazine, June 10, 3016.

'The Hour of Land,' by Terry Tempest Williams, book review by Andrea Wulf, New York Times, published June 1, 2016.

Terry Tempest Williams's Dark Love Letter to the National Parks, the acclaimed nature writer's portraits of 12 parks go beyond perfect postcard tributes, and the resulting book couldn't have come at a better time, by Mary Catherine O'Connor, published on June 3, 2016, in Outside Magazine.
One of the best nature books I've read in years 'The Hour of Land'.
-Andrew Wulf

The acclaimed nature writer's portraits of 12 parks go beyond perfect postcard tributes, and the resulting book couldn't have come at a better time.
www.outsideonline.com/2087511/hour-land-terry-tempest-williams-dark-love-letter-national-parks
-Pamela Tuohy

"The soil is dry. Grasses are brittle. I hardly dare breathe for fear of starting a fire." More from Terry Tempest Williams
High Country News
-High Country News

Writer and naturalist Terry Tempest Williams joins Doug to discuss her latest book, The Hour of Land. It's a paean to America's natural parks.
KUER Radio
-Radio West

The Hour of Land is a poetic exploration of our National Parks by @TempestWilliams
Book Page
- Simon & Schuster

Terry Tempest Williams is a force of nature in at least two ways. First, she pleads forcefully on behalf of the natural world, especially national parks, wilderness areas and endangered species. And, second, she writes as she damn well pleases . . . the author's trademark poetic prose dominates every page.
—Dennis Drabelle, The Washington Post


Praise for The Hour of Land
"Williams (
When Women Were Birds
, 2012), an ardent, often rhapsodic, always scrupulous witness to the living world and advocate for the protection of public lands, celebrates the centennial of the National Park Service in this enrapturing and encompassing chronicle of her deeply inquisitive, meditative, and dramatic sojourns in a dozen national parks. Guided by a finely calibrated moral compass and acute attunement to the spirit of the land . . . this is a uniquely evocative, illuminating, profound, poignant, beautiful, courageous, and clarion book about the true significance of our national parks."
—Donna Seaman,
Booklist
(starred review)
"A broadly ambitious and deeply impassioned collection of essays . . . There are few nonfiction writers who can capture the essence of the American wilderness landscape as eloquently as Williams . . . her distinctive prose style is capable of conveying a deep spiritual dimension within the physical setting . . . An important, well-informed, and moving read for anyone interested in learning more about America's national parks."
—Kirkus Reviews
"Taking us through American national parks and monuments, their history, their present reality, the rocks and birds and trees of them, traveling through place, the memory of place, its history, somehow, whether through the spectrum of poetry or personal story, natural history, history, or science,
The Hour of Land reveals the very bones and sinew of our land. A redheaded woodpecker, Theodore Roosevelt's grief, Terry Tempest Williams's straight-backed father, a horseback ride with her husband through the terrain of the Civil War--slowly, place by place, our country begins to emerge. The South's Civil War outlook is linked to that of today's Sagebrush Rebellion here in the West; a planned wall in Big Bend to the inevitable desecration of nature; fratricidal rage to the glorious indifference of the Arctic, righteous rage to the devastation of oil spills, of the earth; Alcatraz to injustice everywhere. The conflagration of Glacier National Park sets the pages on fire, and yet the monument to Cesar Chavez offers the possibility of change: the Hour of Land is at hand. Terry Tempest Williams has literally shown us our country, its physical body, the bones of its history, the urgent reality of our roles in its future. A manifesto that everyone must read and then act upon."
--Betsy Burton, The King's English Bookshop, Salt Lake City, Utah


---